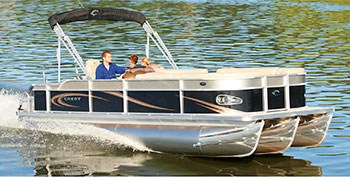 Welcome to Moon Marine
Moon Marine is a full service boat dealer to address all your boating needs. Our customer's confidence is reflected in our high customer service rating. Join the fun of the boating lifestyle with Moon Marine. We have boats for everyone, for pleasure, leisure, cruising, fishing, skiing , tubing or just relaxing. Crest pontoon boats are the best built pontoons on the water. They have over 50 years of pontoon building experience. We now carry Larson boats with their state of the art VEC hull design. This hull carries a lifetime warranty. We sell and service dependable Mercury/Mercruiser products.

Visit our showroom in Fond du Lac, WI or online.
NEW LARSON FX Fishing boats

Come see us and all the beautiful Larson FX boats.

Great new 2016 Larson FX fishing boats.
These are VEC hull with LIFETIME warranty.
New colors, new upgrades!
Don't overlook these fantastic fishing machines. If you do you'll regret it when you finally see one!

Current hours We are here Monday through Friday 8-5 and Saturdays are 8-12 noon. You can contact us anytime at 920-907-8021 or via email moonmarine@att.net



Pontoon refurbishing From complete restoration to just a little sprucing up, we can do carpeting, flooring, tops, furniture, motors or any of your pontoon repair needs.

BOAT SHOW Be sure to come and see us at the EAA Grounds March 4-5-6,2016 for the RV and Boat Show.

WINTER WARM UP SALE $1500 off all Larson FX boats now til February 29, 2016.
WOW !!!!!!!!!
Take an additional $1500.00 dollars off all Larson FX prices listed on the website! Hurry! Limited time!

Check out our great inventory of new and used boats!


Moon Marine
N7375 Mosher Drive, Fond du Lac, WI 54937 • Phone: 920-907-8021